RG Series
The RG Series
Our foam is available in a wide range of densities from 2.5 PCF to 8 PCF. This series can be cut in thicknesses from 3/8″ to 6" and can also be grooved, perforated or double cut for an additional cost.
Thicknesses greater than 6 are multi-piece construction and are available in plain sheet stock only.
Primary Features
Closed cell foam – eliminates water absorption
Good dimensional stability
Compatible with polyester, vinyl-ester & epoxy resin systems
Processing temperatures up to 200F
High strength to weight ratio
Accepted Applications
Marine – hulls, decks, stringers & bulkheads
Transportation – cabs, sleeper floors & RV bodies
Architectural – carving and milling foams
5 axis router – milling foam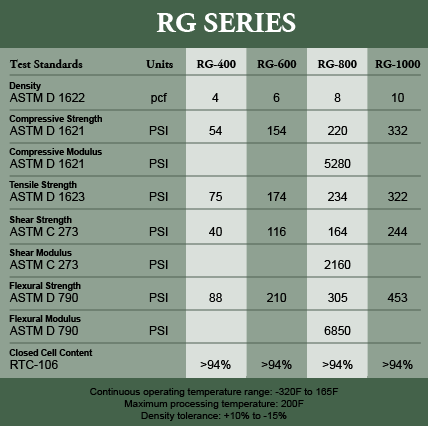 Fiberglass Reinforced Panels (FRP)
Produced using REC's pneumatic presses. The presses use 80-100 PSI thereby producing a smooth, straight panel without wrinkles or resin feed and groove lines as well as good strength to weight ratio.
REC urethane foam core or core to customer's specifications
Available with customer specified fiberglass cloth for "skins"
Available with different "skins" on top and bottom
Available with polyester, epoxy or vinyl ester resins
Accepted Applications
Marine – Decks & bulkheads
Transportation